It's time to shed the Winter Blues
and to kick us off is our Newest Design Team Member
Pam Bray.
Please take an extra moment to give her a warm welcome.
This challenge is to find anything fresh, new, bright, floral and to basically get excited about going outdoors. Do you have a park bench stamp, blossoms, crazy birds or even want to dust off a skull (don't miss spotting it), bring it to into this challenge!
Ring in Spring with Green is being "Lucky"!!!
"Lucky" that here in Tennessee we are extremely blessed to have four seasons!!!
I am so looking forward to spring!!
For our bluebirds to come home to nest!
For our daffodils, hyacinths and clovers to show their spring flowers!!!

*******


Claudia
To me spring is the "fearless" season as it overcomes winter's "death" and decay over and over again each year. I love it when the first greens and little dashes of colour start to reconquer what has been covered in pale whites, dusky greys and rotting browns for months. I tried to capture the nature of this special time of the year in my altered canvas.
*******
Cathy
Spring is a beautiful, colorful season and the start of all things flowers! I love seeing them, smelling them (well most of them lol) and taking pictures of them. And it is so nice to see more blue sky. Walking around the neighborhood you see so many folks out working in their gardens and it's a chance to chat and get gardening ideas.
*******
Julia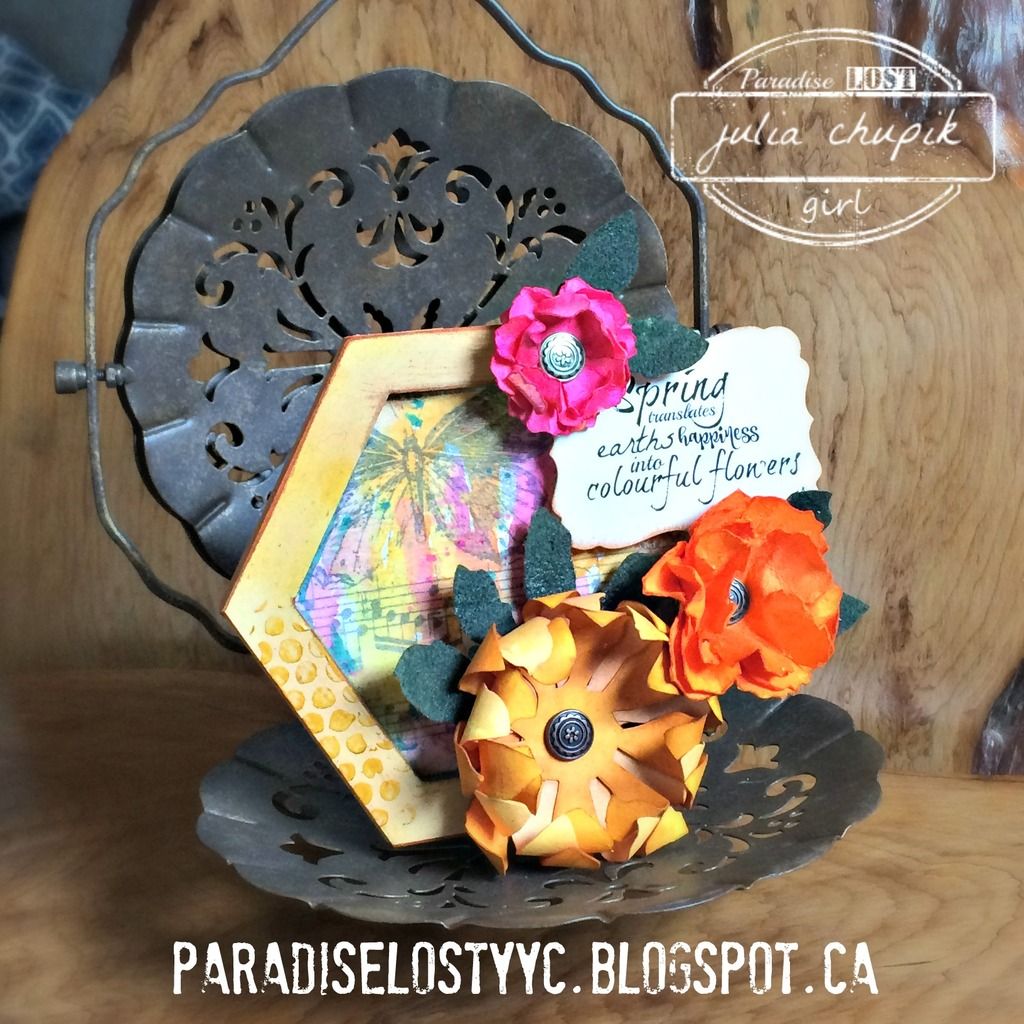 When I think of Spring I think of the bright, colourful flowers that will soon be emerging from the garden, the smell of fresh cut grass and the bright blue skies. Ah...it makes me smile just thinking about it.
*******
Spring is my favourite time of year as it means that Winter is over. I can't wait to go for walks and see window boxes on peoples windows or railings as well as seeing butterflies starting to fly around.
*******
Spring time to me is one of the most beautiful seasons... it is when we all start to notice the little signs that a fresh new world is about to erupt!! the sky gets bluer, the flowers start to poke through and the spring birds start migrating home.....
*******
Shilpa
I've created this 6*6 canvas with Spring theme. For me spring means lots of flowers :)
So I've used
Emerald Creek's Twolip stamp
, it is with lovely 2 tulips and leaves.
I've small tutorial at my blog, pls visit Neon Diary to know more details.
Lisa please
email Kim at admin@emeraldcreek.ca
for your prize code.